Get a better sense of what you have on hand and what you need to stock up! I am providing you with this FREE Home Inventory printable pack as well as digital files you can use on a notetaking App, such as GoodNotes.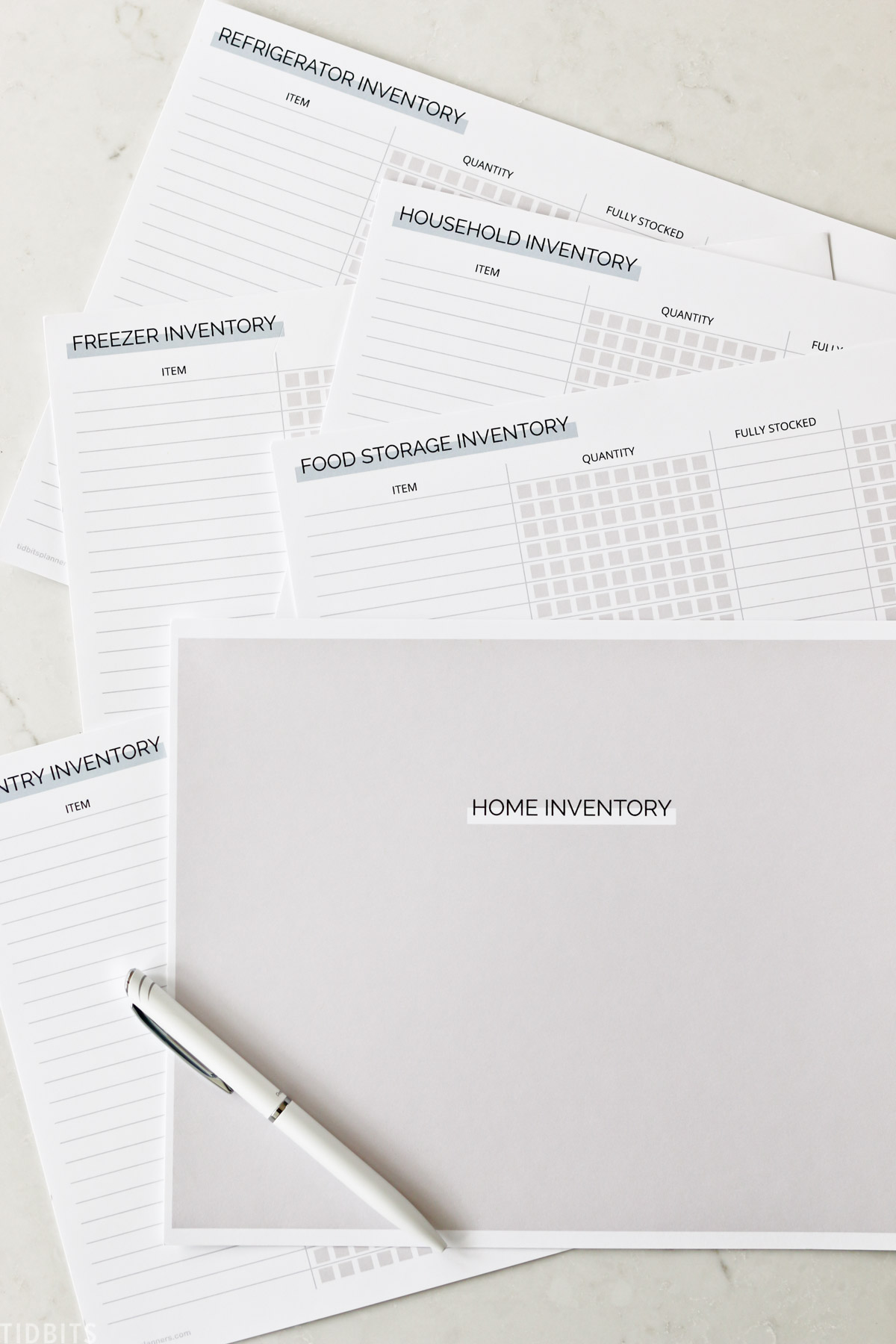 I just added this free printable and digital download to the TIDBITS PLANNERS SUBSCRIBER LIBRARY, and I wanted to be sure you knew how to use your Home Inventory pages as well.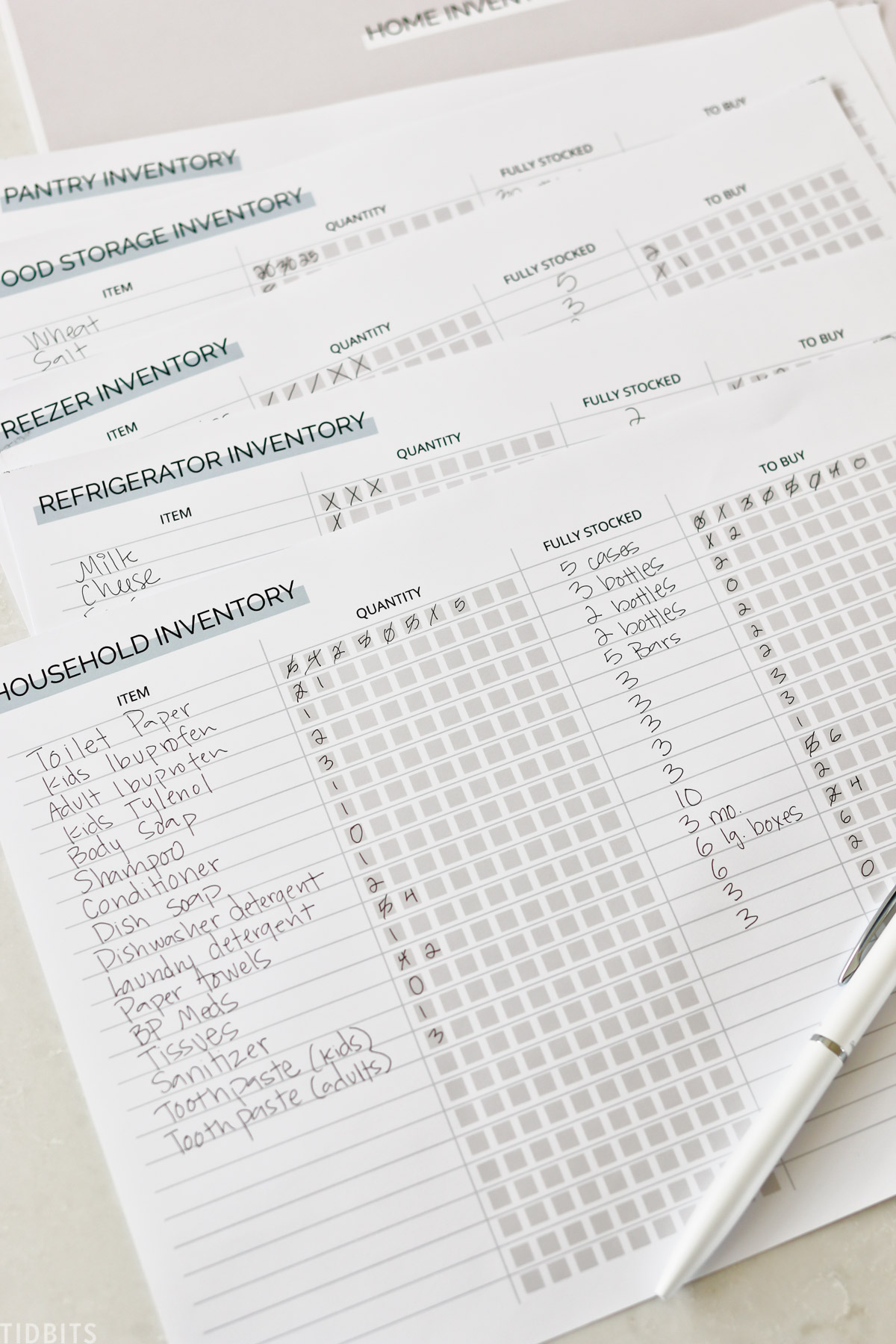 HOW TO GET MY FREE PRINTABLES AND FILES?
Before I dive into how to use them, I want to make sure you know how to get them! The free downloads are included on my printables page. Please click here and enter your email in the designated box. You will get an email within a few minutes with the passcode to use on this same page to unlock access to all the free printables and files I have in the library.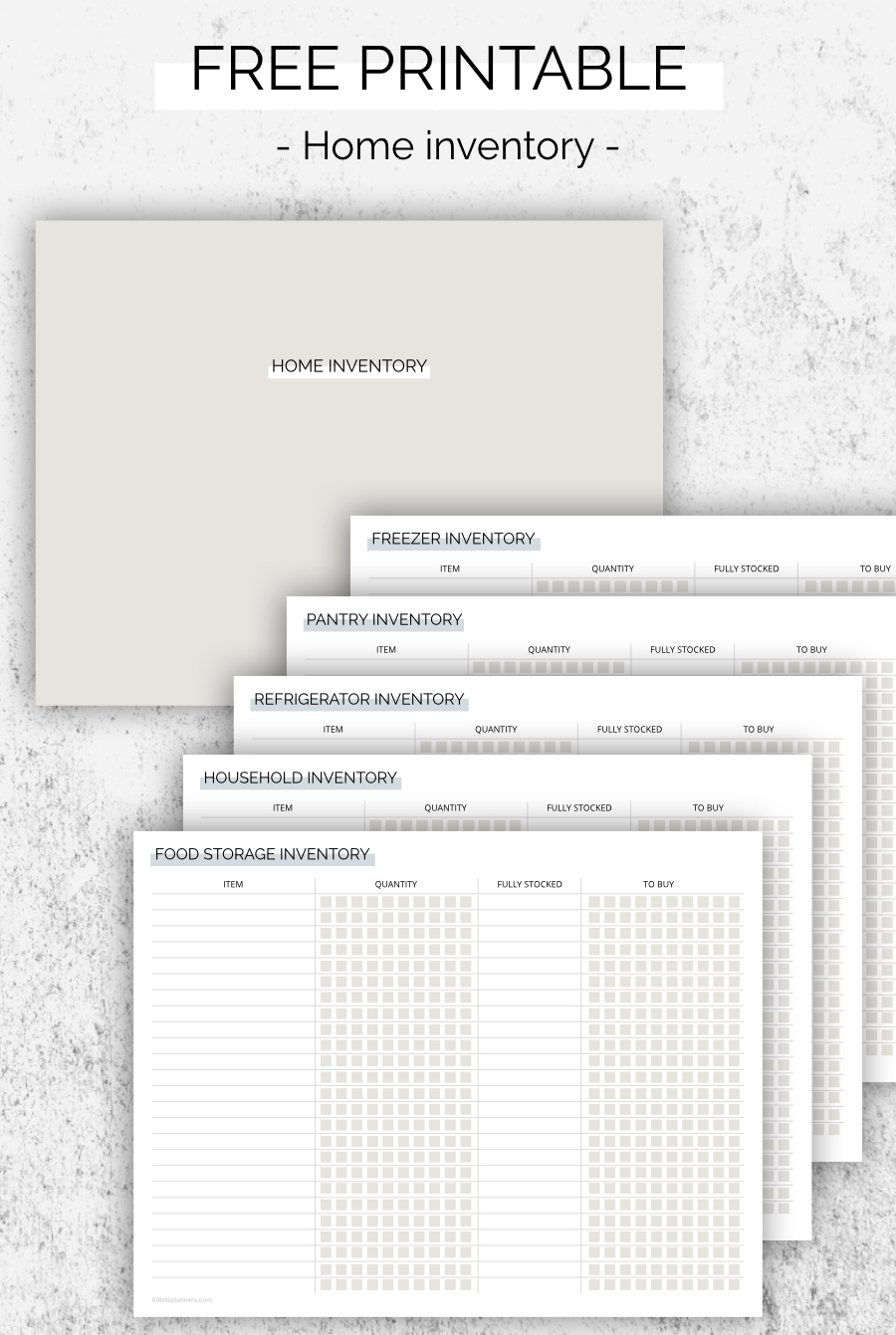 WHAT IS INCLUDED IN THE HOME INVENTORY PAGES?
The pages are designed simply as well as easily adaptable to your preferences. There are 4 columns:
Item

To list the name of the item you are keeping stock.

Quantity

Filled with checkboxes to add number counts or tally marks

Fully Stocked

This is where you will want to write a number to guide you to how many items you want to consider as "fully stocked" in your home.

To Buy

A place to add numbers as you need to continuously buy and replenish your stock.
With the many boxes inside of "quantity" and "to buy", you'll be able to work off of the same sheet for many inventory checks. It will be a nice running form that will last until you've filled up the boxes. Once the sheet is full, you can easily print more and continue on.
BENEFITS OF THE DIGITAL HOME INVENTORY DOWNLOAD
The benefits of using these pages digitally, is that you can simply erase the box marks you've added and keep the "item" and "stock" in tact without having to re-write your information.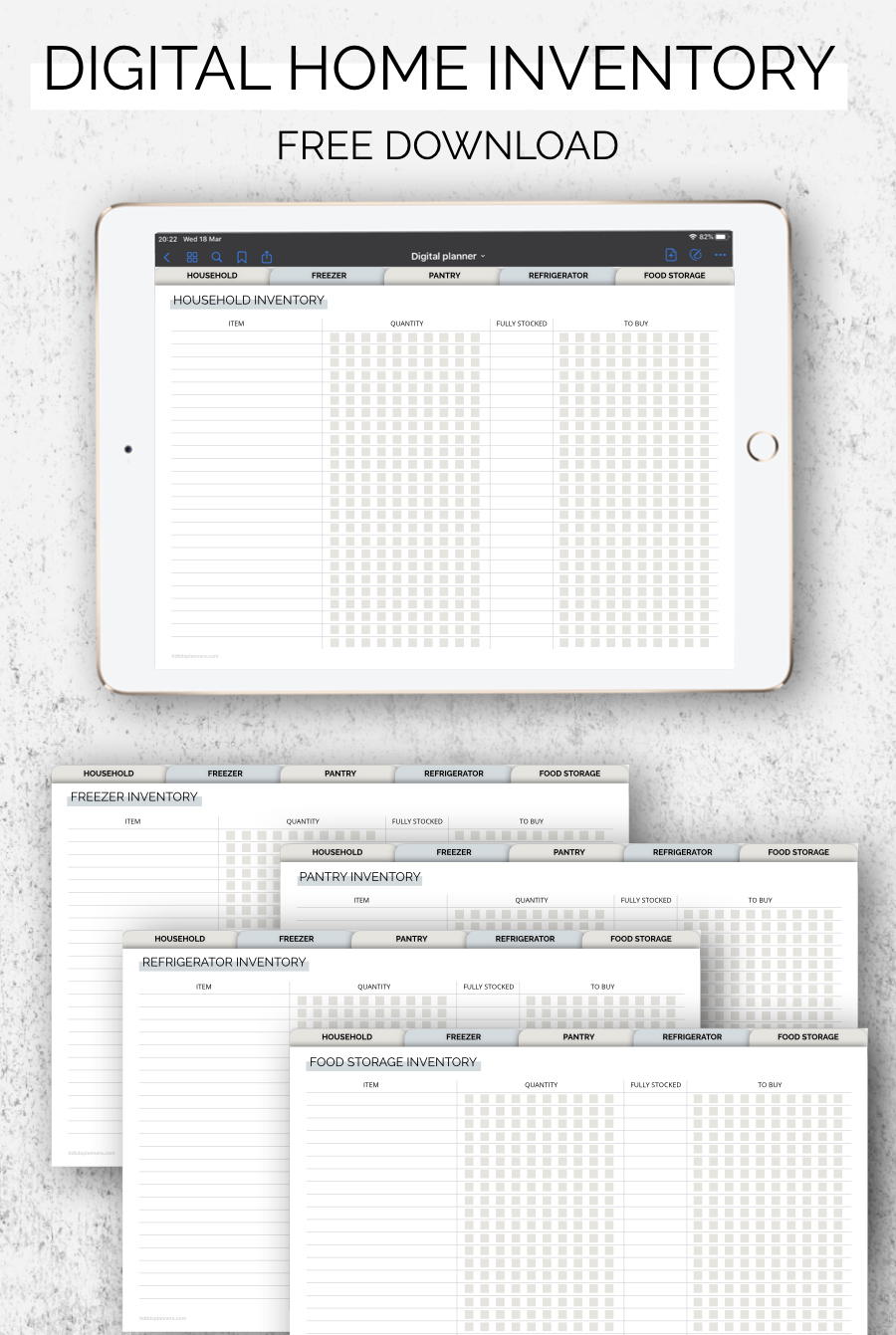 You'll also have your pages while you are on the go and can pull them up on your phone while shopping. I'll go into more detail for how to use these digital files down below.
HOW TO USE THE HOME INVENTORY PAGES?
First, let's make sure you know how to use these pages.
Now you can invent a method that works best for your brain, but I see the potential to use them a few different ways and I vary how I use them based on the frequency of when I keep stock of that area.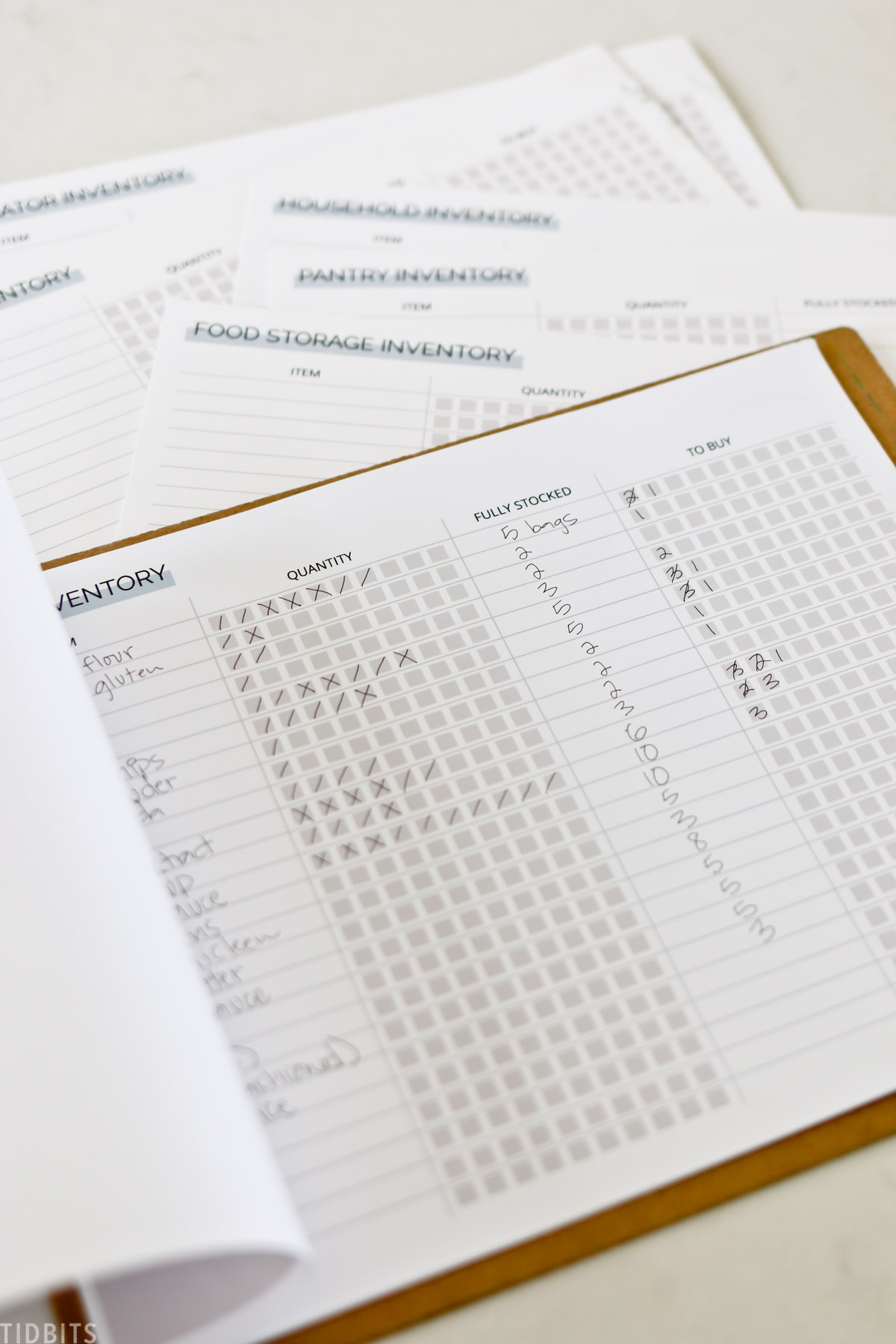 METHOD ONE: USING TALLY MARKS
For example, if I am in a situation where I will need to be very mindful of everything in and out of our refrigerator on a daily basis, I would use tally marks in the quantity boxes.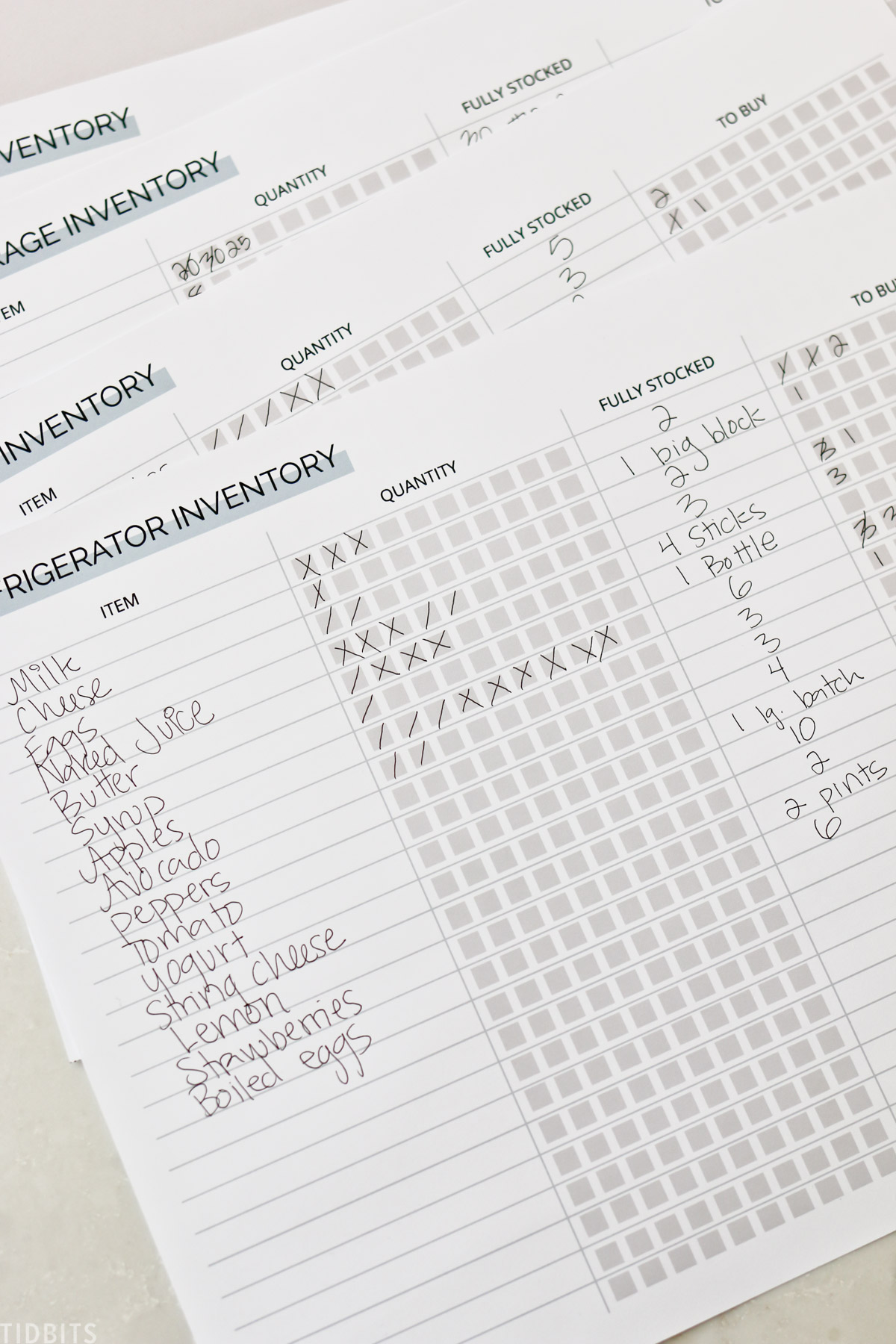 When I am taking inventory of what I have, I add ONE tally or slightly slanted line. When I use up one of those items, I then add a tally going the other way, creating a "X" mark – which then signals to me that I am short one of those items.
When I go to make a grocery list for what I need to be "fully stocked" based on my pre-determined numbers, I can then write a number of the items I need in one of the "to buy" boxes, based on how many I have left in the "quantity" section. I know the "X" mark means that item is gone, and the single "tally" mark means I have some left.
I feel like this "tally method" is best when you will be keeping track on a day-to-day/meal-to-meal basis, and you want to be very aware of what is going in and out. It's quick and easy to add a tally line and keep track. For me, I like to use the tally marks for the pantry and refrigerator sheets.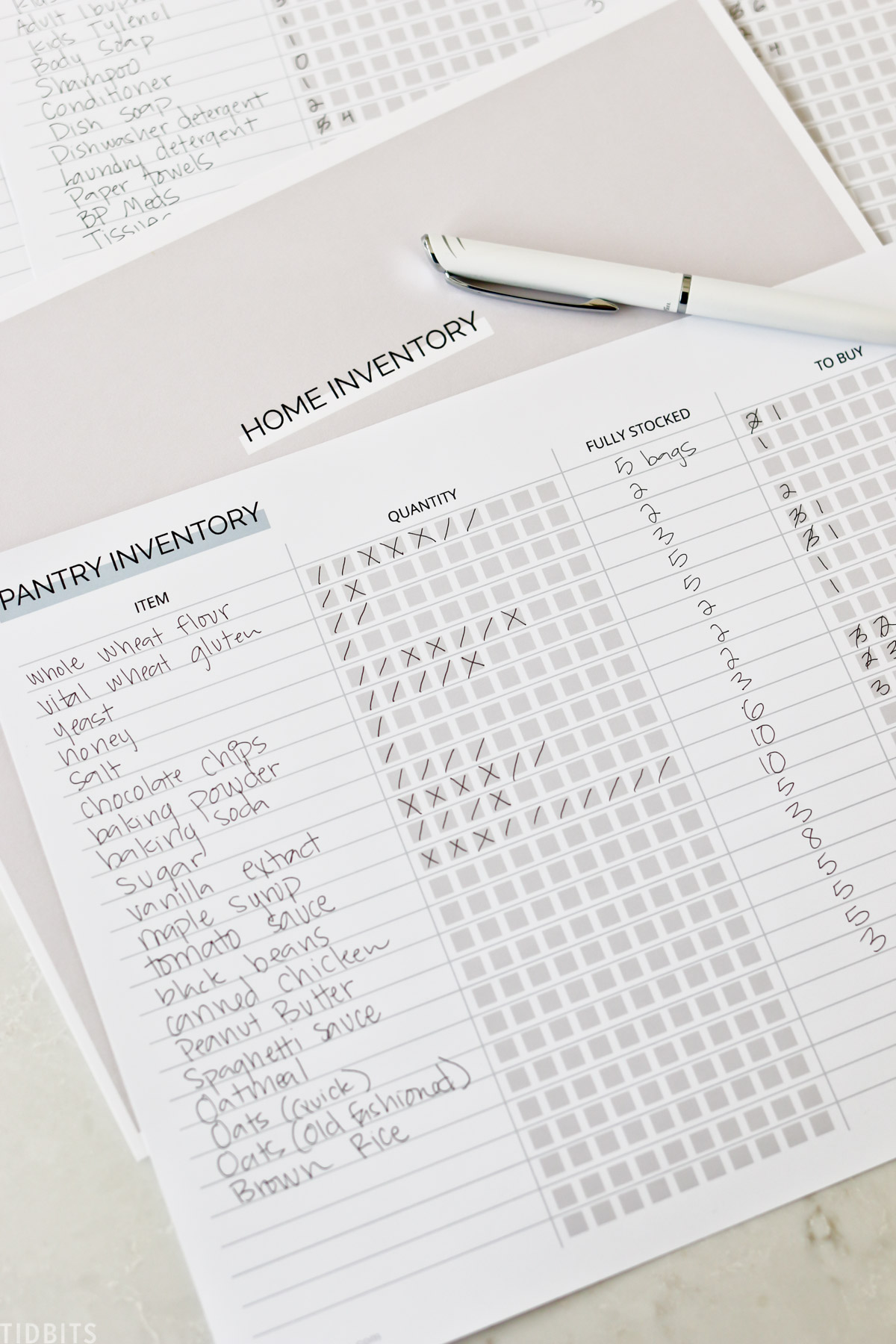 You will use up the quantity boxes quickly, but you can allow a few lines for items you use a lot of and keep printing more as you need them.
You may also see how having a digital version would be handy to suit this same daily purposes, where you can easily erase and add marks.
METHOD TWO: USING NUMBERS
You may also use numbers for both the "quantity" and "to buy" boxes. I find this works great when you take inventory of your stock every once in awhile, which for me is when I look at my long term food storage and bulk household items.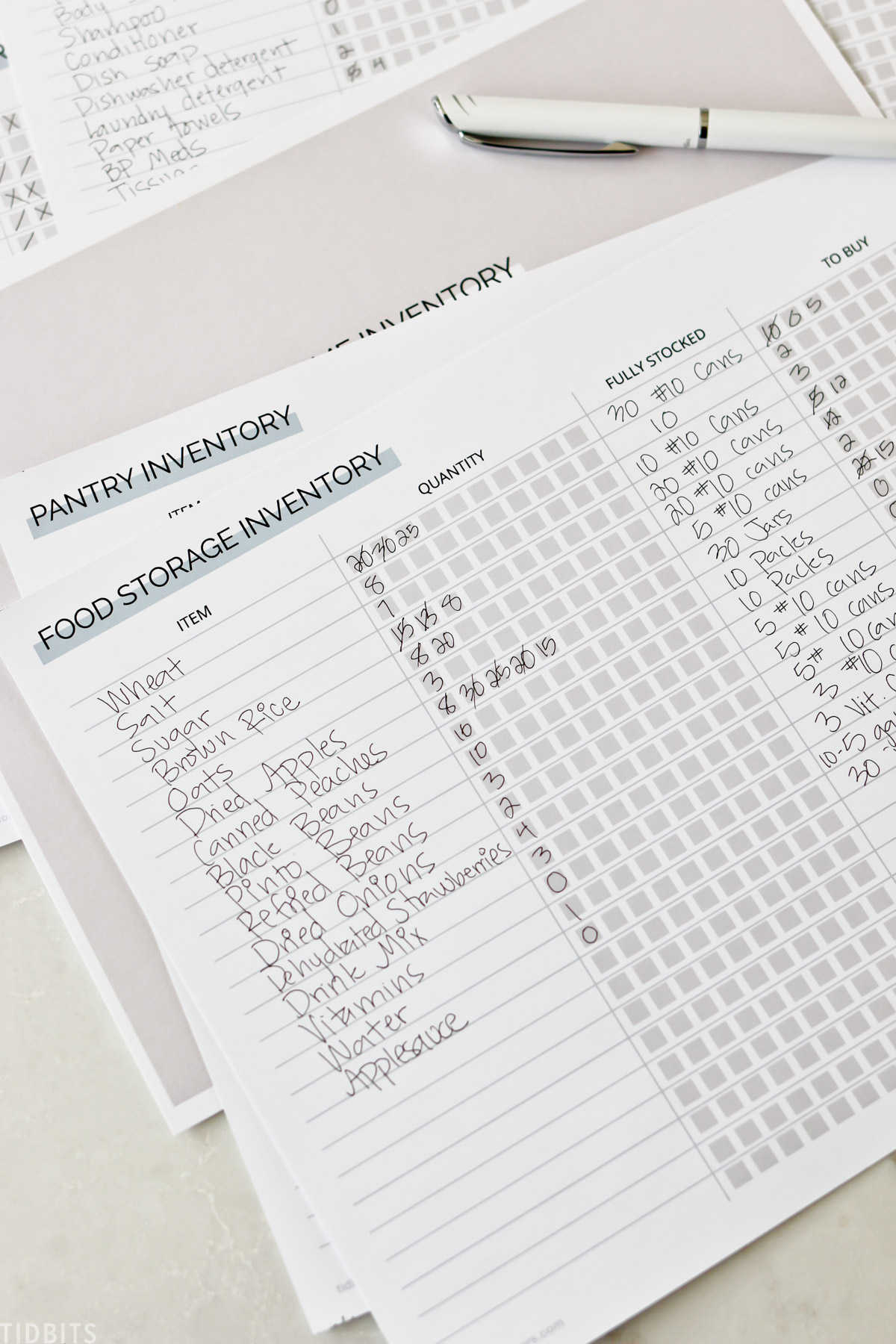 I write a number in the "quantity" box to show how many I have on hand at the current time.
I determine what is a comfortable number for a fully stocked home.
Then I write a number on how many I need to buy to bring my "quantity" number up to the "fully stocked" number.
After I buy the items, I can cross off those numbers and update my inventory if needed.
With 10 boxes, this will last you exactly 10 inventory checks.
METHOD THREE: USING A MIX OF BOTH NUMBERS AND TALLY MARKS
I found myself using a mix of numbers and tally marks when I was taking my Freezer Inventory.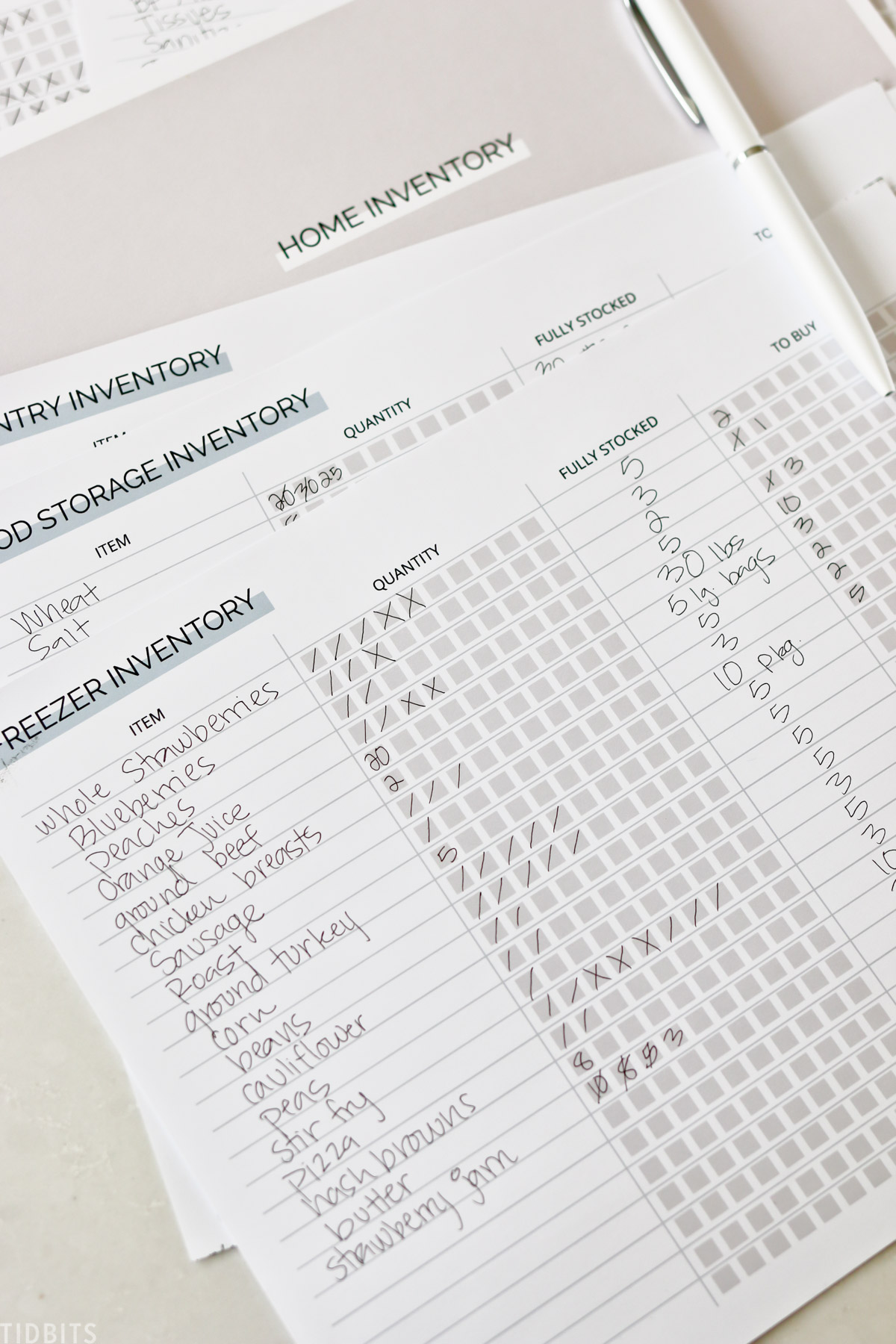 While some food items, like ground beef, are always bought in bulk I liked using the number system.
Other things that were in smaller quantities, or that I wanted to be very aware of how many I had (for meal planning purposes), I used the tally marks so updating the list was quick and easy.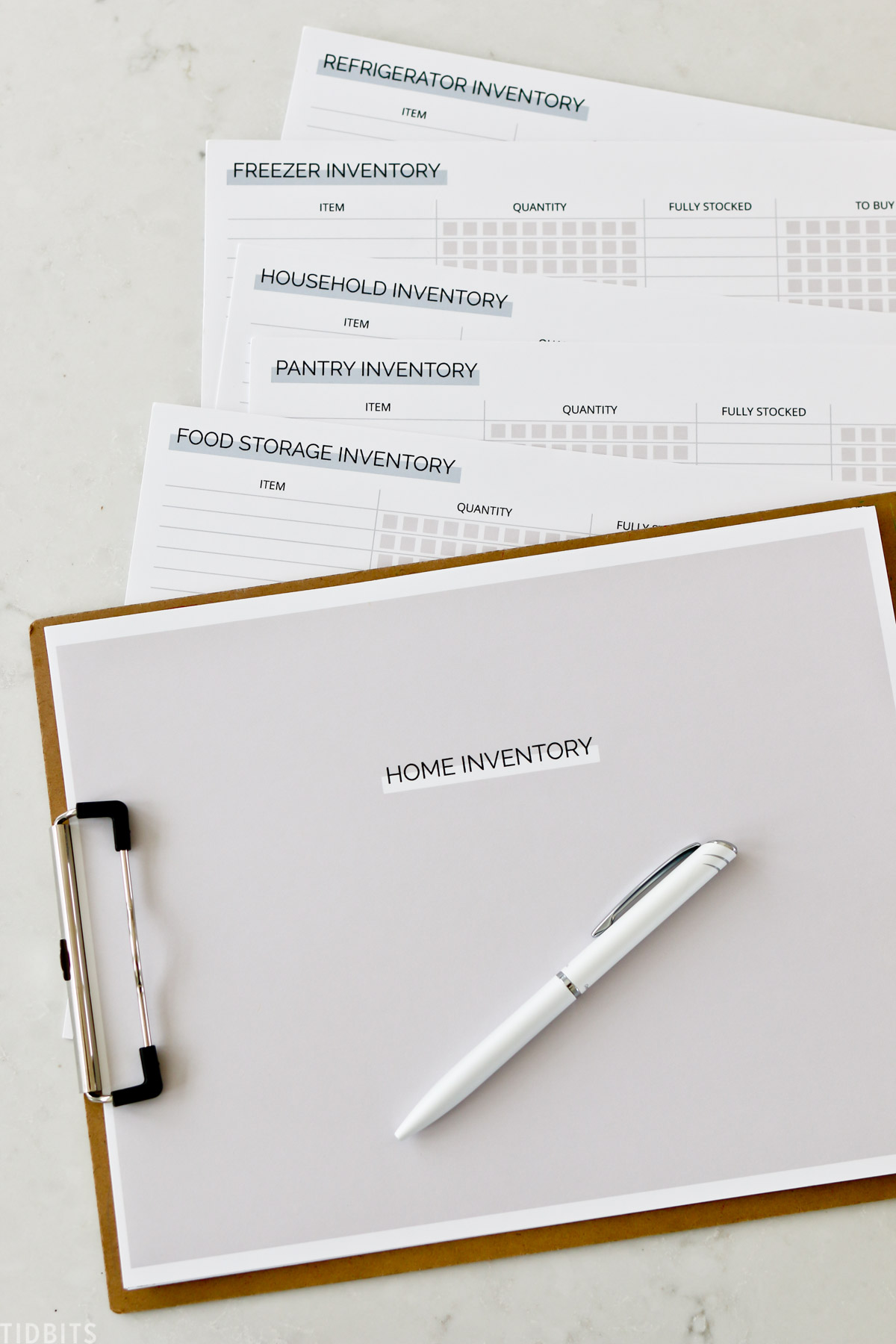 As you can see, you can make this work for you and for your needs.
HOW TO USE THE DIGITAL HOME INVENTORY FILES
If the digital version appeals to you, I have gone through a great deal of work to make sure you know how to use my files digitally. I have this page FULL of photo and video tutorials walking you through how to use and love my digital products and printables.
Everything I mention for the planner products will work exactly the same for the FREE HOME INVENTORY PACK.
Your download will come to you in a PDF format, which isn't editable unless you have a notetaking App. The 2 most popular ones for Apple Devices are GoodNotes (my personal favorite) and Noteability. Here is a good resource if you need one for Android devices.
These Apps are incredible for editing PDF's. You can add text, duplicate or delete pages and writing, insert images, graphics, stickers and so much more. Again, please check out my resource page to learn all you need to know about using my files digitally.
If you have any ideas on how this pack could be better for you, please let me know! I'd be happy to oblige!
My real hope is that by taking an inventory of your home, you can feel at peace knowing you have what you need or have a solid action plan for what you need to get.